"DON'T BE SCAMMED"
Newport Assembly of God is hosting a
Pennsylvania State Police presentation
about scamming and fraud.
Learn red flags and
how to avoid being scammed.
Click below to learn more.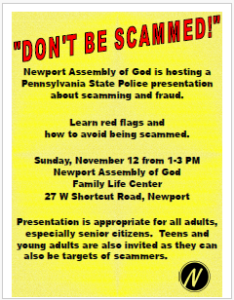 Recycling for Perry County Residents
Recycling Information
Perry County Conservation District
 Free Electronic Drop-Off
Dauphin County Solid Waste & Recycling
1625 S. Cameron Street
Harrisburg PA 17104
New regional program with Vintage Tech, no fees charged for electronics dropped-off. Must be on an individual basis, no large truck loads. Open Monday – Friday 8:30am-4:30pm, Saturday 9am-2pm. Closed on holidays.
Call (717) 982-6772 for more information.
 

Electronic Drop-Off 50¢/LB
Electronics Recycling Center
1001 Claremont Road
Carlisle PA 17015
Cumberland County has opened an E-cycling center. They will accept used/old electronics at a fee of $0.50 per pound (Credit card convenience fees apply). Open ​​​​Tuesdays – 12 PM to 4 PM, ​Wednesdays – 12 PM to 4 PM, ​2nd and 4th Saturday of each month – 8 AM to 12 PM. Closed on holidays.
Call (717) 240-6489 for more information.